"Rebuilding Together! St. Mary's, a Legacy of Living Stones"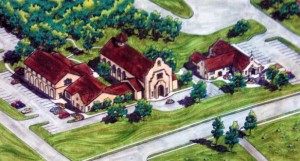 Heavenly Father, we thank you for the abundant blessings you have bestowed upon St. Mary's Catholic Church since its inception.
We implore you Mother Mary, Our Lady of the Rosary, to intercede on our behalf for the success of our Capital Campaign. We know that completing our vision will require sacrifice, and we ask for your inspiration to participate in this work that will benefit generations to come. Move the hearts of your people to support our efforts.
Bless our donors and all people involved in this project. With you at our side and your Spirit working among us we can do all things. We ask this through Jesus Christ our Lord who lives and reigns with you, in the unity of the Holy Spirit, one God forever and ever. Amen