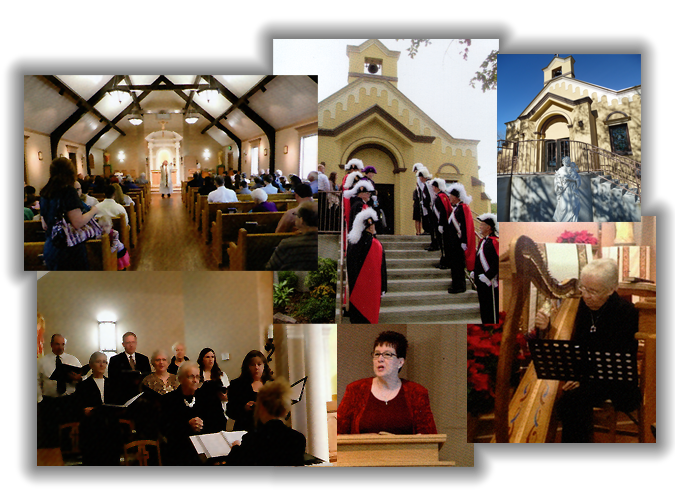 St. Mary's is a Catholic Church located in Camden, Tennessee. We are part of the Catholic Diocese of Memphis, Tennessee.
We hope you will look around and learn more about us – and please stop by and visit if you're in the area.
---
Announcements
Cookbook
The Ladies' Guild is taking preorders for the Cookbooks. They are $10.00 each and will be ready to give as Christmas gifts. Please contact one of these two ladies to reserve your copy or copies.
Holy Family: Karen Pierce 986-9786
St. Mary's: Lois Mahoney 593-0950
If there is no answer, please leave a message. You will be notified when they are ready.
Angel Tree
We will have an angel tree again this year. It will be in the back of the church right after Thanksgiving. So everyone just doesn't pick one resident and buy everything on the list, we are trying an angel for each item requested. You can pick more than one angel, of course. Details will follow on when the gifts need to be wrapped, labeled and brought back to church. The residents of Good Samaritan are most appreciative of the gifts they receive.
Christmas Party
Remember to mark your calendars for the Christmas Party to be held on Sunday, December 17, after Mass, at the Apex Bank of Camden on 641 in the community center behind the bank. The church provides the meat, and everyone is asked to bring a dish to share.
Exposition of the Blessed Sacrament
Exposition of the Blessed Sacrament every first Friday of the month. Please sign up for an hour of adoration with the Lord. 9:00 – 10:00 a.m., 10:00 – 11:00 a.m., 11:00 a.m. – 12 noon.
Devotion to St. Mary
Every first Saturday of the month. This entails Mass, recitation of Scriptural Rosary and adoration of the Blessed Sacrament. Remember to bring water in a container to be blessed.
Join Us in The Holy Land & Fatima
You are invited to a once in a lifetime pilgrimage to The Holy Land & Fatima! Departing October 3, 2018 for 12 days. For more information CLICK HERE or go by the church office.
St. Mary's Catholic Church
220 West Main Street
Camden, TN 38320
Phone: 731-584-6459